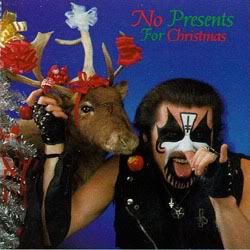 I'm sure that there is some kind of heavy metal law that requires you to post that image whenever you write about this song.
It's a classic and you know it. It may start out with some jingling bells but it's not long before you get one of King's instantly recognisable laughs (0:18) and the first riff kicks it off into a typical Andy La Rocque lead (0:31). (0:50) Vocals start here. You'd think that the song would be more evil and vengeful being a King Diamond song but it's pretty tame and completely silly, you'll have to hit up Google and search around for the lyrics because it's a scream. (1:01) Speaking of screams... (1:59) Have another one, AAIIIEEEE! (2:33-2:49) What you get here is two killer solos here broken up with some more bells and then more shredding from Michael and Andy (2:55-3:23). This is guitar hero shit here folks. (3:42) Here is that ridiculous Christmas riff where the guitar sounds like something they put on the boombox at the holiday inn when you're there at this time of year. Oh hey, it ends with a laugh as well (4:12).
This is a song that I would have loved them to have made a video of.